NCJAR Circle of Excellence Award Winners 2021
Congratulations to our 2021 NCJAR Circle of Excellence Award Winners!!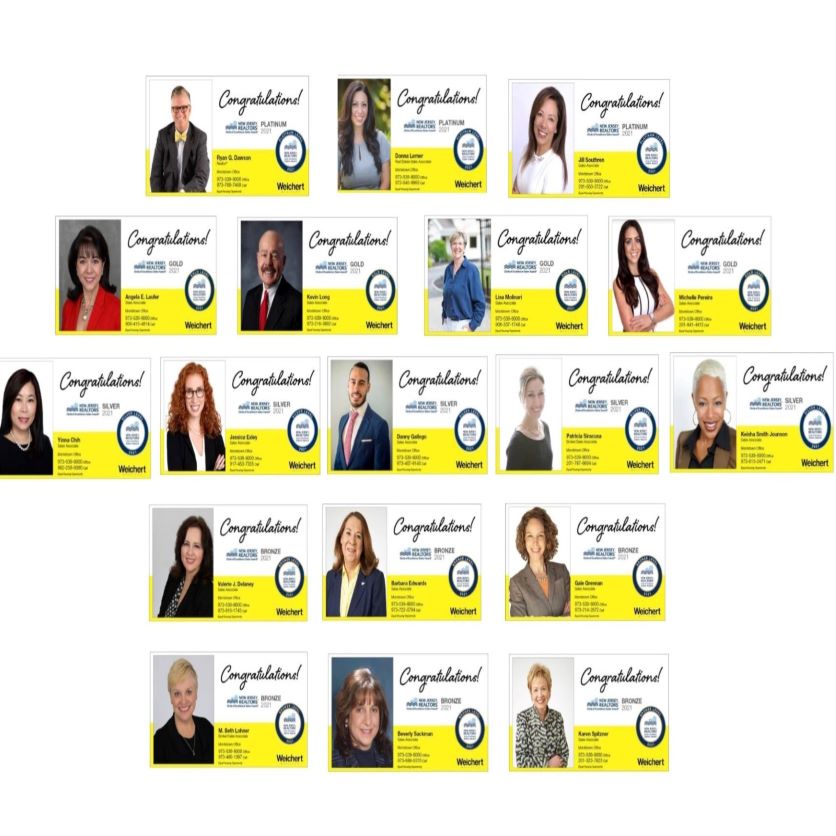 Testimonials
" My wife Pravi and I purchased a home through Weichert Realtors. Our realtor was Joan Kamm. As first time buyers, we were very unfamiliar with the whole procedure and had lots of questions. Joan Showed a tremendous amount of patience and knowledge through the entire process. We had experienced several problems throughout with delays from our attorney and mortgage process. Joan was there to light a fire and ensure that we were taken care of properly. Joan was the one trust-worthy factor of this process. "
- Amar Besa
" We are very pleased to respond with our recommendation for Joan Kamm as our realtor in New Jersey for buying and selling our home. We would loved to have had her work with us for our downsized retirement home in Michigan. To us the most important attribute of Joan's work against the backdrop of her professionalism, business acumen, drive for results and her engaging personality was that she is always on what needs to be done. "
- Clayton Jacobsen
" Linda and I would like you to know that we are extremely happy with the way you marketed our home. Not only did it sell much quicker than we anticipated, it also sold at a higher price than we thought we would receive. "
- David & Linda Pierson
" We put our faith in Joan and it was not misplaced. We feel that Joan was singularly responsible for our being able to close both properties within a two- week time frame, saving us considerable additional expense on mortgage and bridge loan interest. "
- Daniel & Karen Huwyler
" Your professional attention to the needs of transferees pertaining to home finding, the sale of a present home and the guidance to effectively resolve problems has been exceptional. Your dedication is to be commended. "
- Joan Zwick, Broker Counselor Cooperative Resource Service, Inc.
" Joan is one of the most client-centric realtors I have ever met. She is extremely professional. From the moment we listed my house, I knew I was in good hands. My closing was difficult, but you know who was by my side to overcome and push through...Joan! She is absolutely amazing. You will not be disappointed if you list with her! Joan appropriately leveraged the Weichert name/reputation as a beacon of power and respect in the real estate community. "
- Laura Perry
" Regarding Joan's marketing techniques, she priced our home exactly where we thought it should be. Our previous realtor overpriced it right out of the market and then wanted to drop the price every week. Our first realtor did everything wrong, and Joan did everything right. It was a real pleasure working with Joan Kamm. Joan is a professional who knows what to do and how to do it. "
- Arlene and Richard Stabile
" I would like to thank you for everything you did to help us find a home in the NJ area. You were extremely knowledgeable across all of the different areas we were looking, extremely responsive, fully available and flexible to meet our needs and schedule, gracious and understanding, empathetic and helpful as we faced several challenges. "
- Kimberley Hunt
Previous
Next